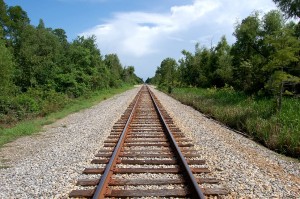 The Mountain Democrat's latest opinion piece regarding the Southern Pacific Transportation Corridor in El Dorado County, a recent U.S. Supreme Court decision provides an additional reason to leave the railroad tracks in place. If anything, it will be a great precautionary measure to keep the rail corridor intact.
The 8-1 decision handed down by the nation's highest court states that starting in 1875, the U.S. government granted railroads easements, not a right of way, to build their track. What's the difference, you ask? An easement is an agreement that allows a party access to another party's property to build a road, pipeline, railroad, etc. The original party retains ownership of the land. The ruling affirmed one family's objection to a proposed trail running through their property where the railroad tracks had been removed years earlier. They argued successfully that the railroad had been granted and easement type of access to build their tracks and that once the tracks had been removed, the easement was no longer in effect.
The lone dissenting opinion by Justice Sotomayor stated that this ruling jeopardizes thousands of miles of trail systems in our country. In El Dorado County's case, if the rails between the Sacramento County line and Shingle Springs are removed, does that portion of the corridor (or the entire corridor) lose the right of its easement? Does the land revert back to surrounding property owners? Even if this case is not directly applicable, there will be many ranchers and home owners who want "their" land back. The question is, will the County decide to remove the tracks and face potentially costly litigation or will they keep things the way they are?